Well, I can see it is not going to be a very easy country. The weather is not picture
perfect and we should not expect it. But we certainly hope we will make it. As we tried
today.
arriving at the crack of dawn to a deserted railway station is not the best introduction
7am arrival time is not an ideal time to come to town. Way too early for the Caucasus
people, everything is closed, except for the Marriott hotel coffee shop or rather the
espresso machine. Except we have no local money to pay and the receptionist is not
eager to help.
the alphabet is not exactly the bubble scripture of Georgia, Burma, or Cambodia or the
tea leaves of Arabic alphabet. It is a kind of Xmas cane style. It does not matter too
much when it is followed by Latin (English) or at least Russian version because Latin
transcript of Armenian original is rather phonetic so it could vary from case to case, but
mostly it is completely missing.
google maps have not yet mapped all of Armenia, including our B&B
When we finally got the rental car 2 hours late from the office in the Marriott we had to follow the sun hidden behind clouds and our feelings to get to our B&B on the outskirts of Yerevan. After getting totally lost and stopping numerous times at the side of the roads to ask for directions we found it, had a late breakfast, saw the preparation for today's lunch on the fire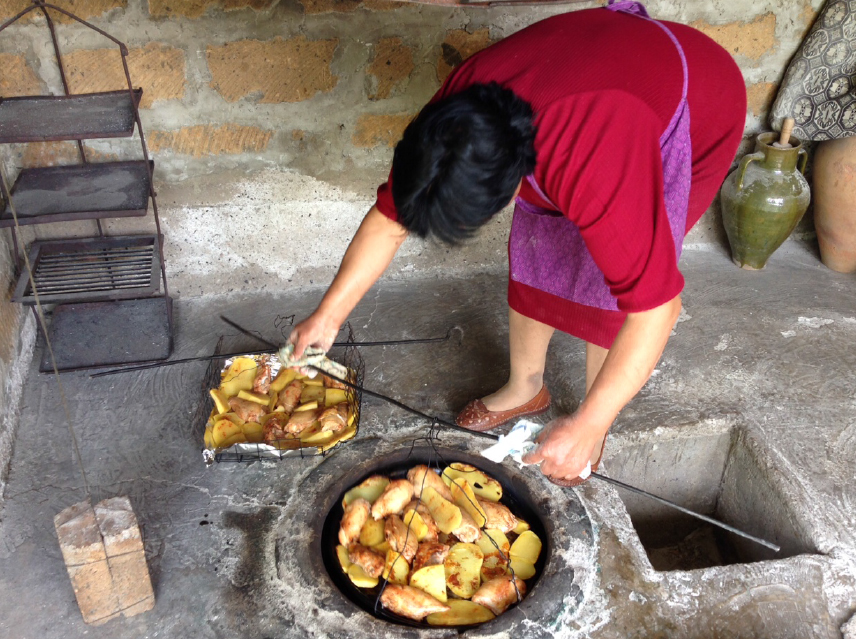 …..and Armenian bread called lavash…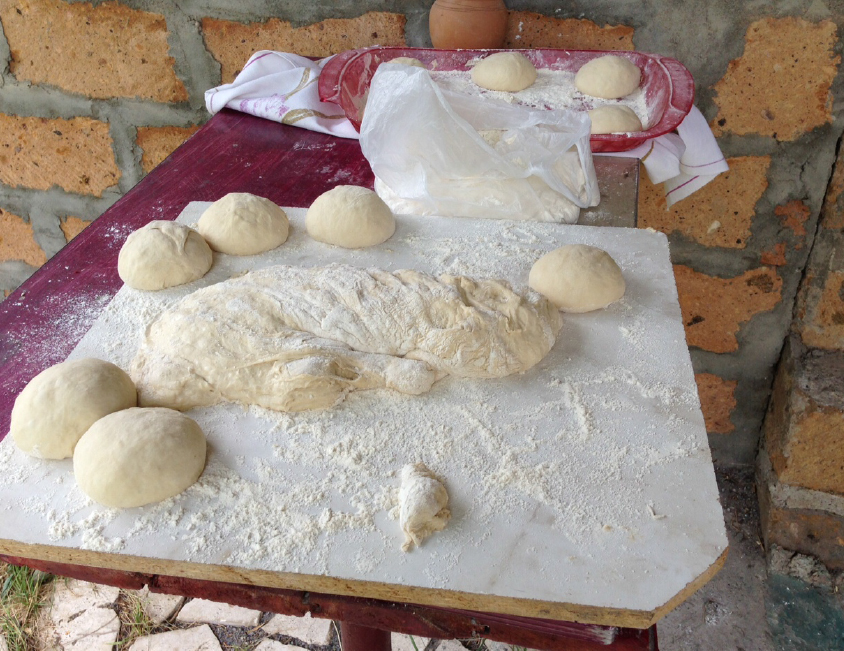 ..and we were back on the road.
I should actually say bad roads reminding me of a practice field for Armenian tank divisions. Our car, Soviet era style Jeep Niva, has its own problems with age, the gear box (it looks that gear #1 died a few years ago making me hop embarrassingly all over the parking area like an antelope) and average mileage of another Soviet era product, a top of the line jet fighter MiG-27.
Luckily the first sights on our Armenian self drive itinerary are just about 1/2 h down the road from our accommodations.
We start off with the Temple of Garni, a well preserved example of simple and simply divine Greek architecture from the times when Armenia was the Wild West of the Greek Empire. Ksenija visited it when she was here for the first time, thirty years ago, but of course the temple was not where it stood in her memory and it looked much smaller now. Still it was a cute and perfectly restored souvenir from those times of antiquity.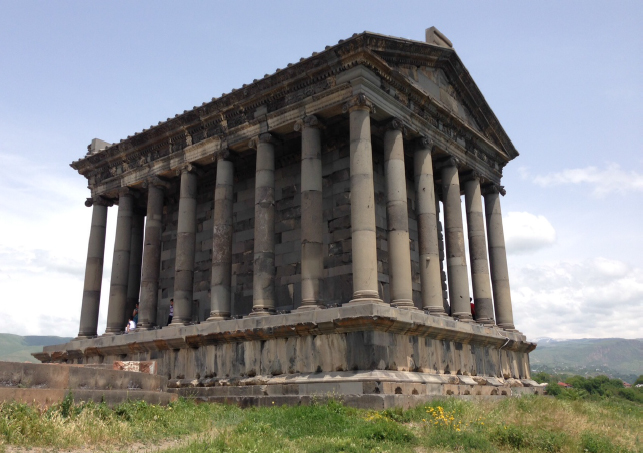 She has been telling me about this temple for the last 30 years so now she finally dragged me here.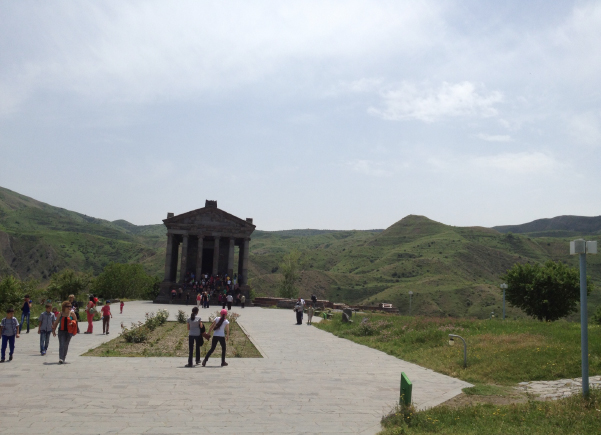 This long day we ended by visiting our first monastery, a real gem at the end of the valley, called Gerhardt. It was partially carved into the rock, some sort of Armenian answer to Jordanian Petra. It had very primitive, but very powerful animal carvings and spectacular acoustics. An Australian Armenian woman sang an Armenian song and in the near pitch dark of the chamber pier ed by a few thin devotional candles it was so beautiful, you did not want it to end.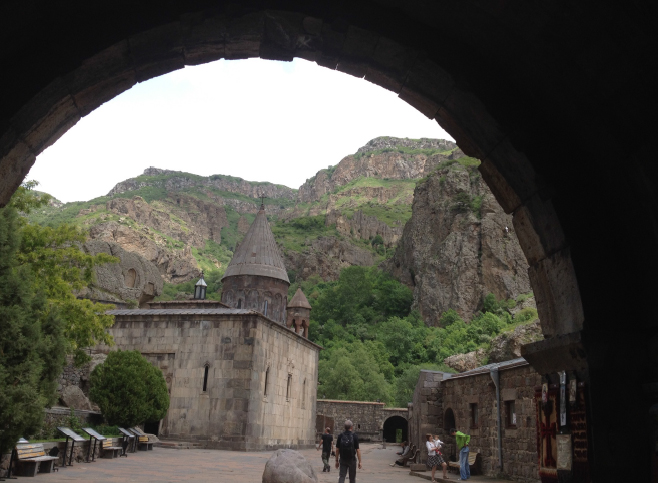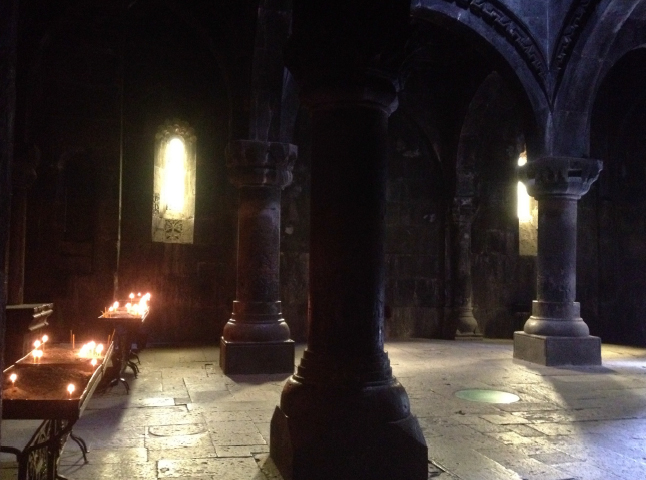 By that time we were very much tired by all of the events of the day and mobilized all our inner strength to drive back through an unfamiliar landscape, occasional showers, Mt. Ararat hidden in the clouds, all the while fighting with the gear box, to our home away from home, a place called "Three Jugs" for a before dinner talk with a visiting ceramic artist who, like almost all Armenians left in this country, has only a limited command, if any, of English and to communicate with most of them we have to dust off our rather rudimentary Russian which is most of the time a lot better than their English. After the hard benches of the Georgian first class train we will sleep well in real beds tonight.