A new day, blue sky, a lot of sun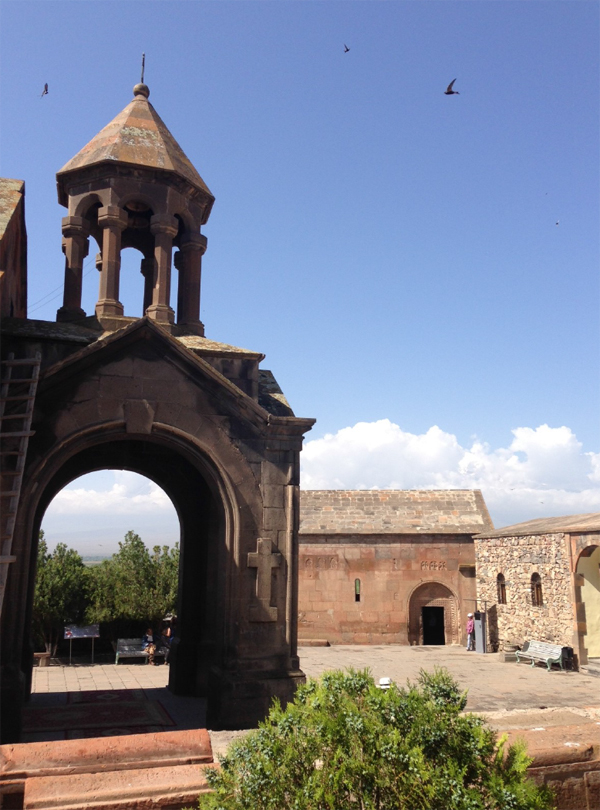 The guy who converted Armenia to Christianity, Grigor the Illuminator, spent here at Khor Virap, 13 years, imprisoned in a well by our old friend Trdat the Third. No wonder Trd was pissed when he found out that Grigor was not only a Christian but that his dad Anak assasinated his own dad
king Khosrov II when they were both kids. In revenge Anak and his whole family were killed, but Grigor was spirited away by his nanny to Capaddocia (Roman Cesarea) and brought up as a Christian. As the only heir infant Trdat was also spirited away to Rome. They both met as grown men back in Armenia. Their story would make a great Hollywood movie with murder, friendship, betrayal, unrequited love, madness and a happy ending. So, Gregory was sitting in a well, poor chap, and if it were not for an older widow, who kept secretly throwing a loaf of bread into the well every week, he would have been dead long, long time ago. He would never have had a chance to convert anyone and the Armenians, who knows, would be Zoroastrians or Muslims
instead. The veil of clouds above the monastery is hiding Mt. Ararat, the sacred mountain of Armenians, just a short crow's flight across the stolen border in Turkey. Bastards! Standing here in the dramatic landscape one can feel the pain of all Armenians around the world.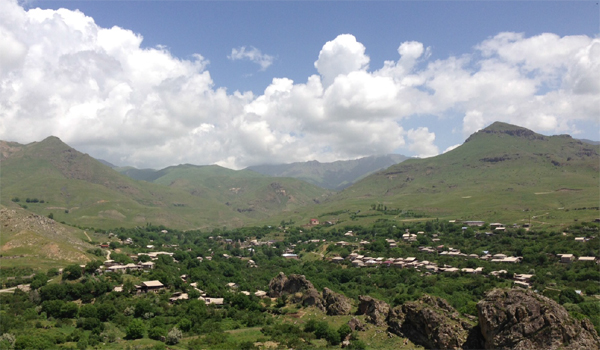 From there on we spent our day stuffing ourselves with cherries and apricots from the roadside vendors. We struggled not to buy a live fish as well, available like during my childhood in Prague before Christmas holidays. We were driving through fertile river valleys, beautiful mountains, bypassing Naxichevan, the enclave of Azeri people whose borders with Armenia are closed in revenge for mutual favors after the Nagorno-Karabakh war.
Occasionally we were puzzled looking for the roads, places or gas stations as the dashboard indicators revealed the quality of information we would otherwise take in any non-Russian car for granted. For example the fuel level in our car's 40-liter (10-gallon) gas tank was being reported half full most of the time, so after a day of driving I bought additional 20 liters of gas. After this transaction our gas indicator showed our tank…..half full!
Thanks God, the roads of Armenia are sprinkled frequently with gas stations on both sides of the road. You just have to understand the system. Not all of the stations are open, and those that are, are not necessarily manned. Do not despair and be patient! If the station operator does not sleep behind the counter, in a minute or five, you will see the sole owner of the gas station leaving a nearby bar or restaurant to serve you. It does not mean necessarily that you will get what you want because a power failure could stop your pump in the middle of the operation.
There is no point to wait for electrical power to be restored. You simply pay for approximate value of fuel delivered and move on, hoping that you do not run out of gas before you can find a new supply. The relatively high cost of gas in Armenia ($1.25 a litter, about $5 a gallon) may not seem as very high to us and compared to $8 per gallon in EU even cheap, but for somebody with $80 a month paycheck it becomes pretty tempting to steal gas from somebody's gas tank. It sounds incredible, doesn't it? But it happens! So the advice the rental car agency gives is to not overfill your tank if not necessary, just keep it at half empty!
Almost as frequent as gas stations are beautiful churches and monasteries in this God loving country and their locations spectacular. To kick over a thousand of years old sacred buildings is quite common. And ocassionally we do simply kick over one. Following the signs for Areni winery and not finding it we came across this little jewell-S. Astvatsatsin church. Try pronouncing that! It means Holly Mother of God in Armenian. While we did not find the new winery a team of archeologists just a few years before us discovered the world's oldest winery in a cave close by. It is over 6000 years old!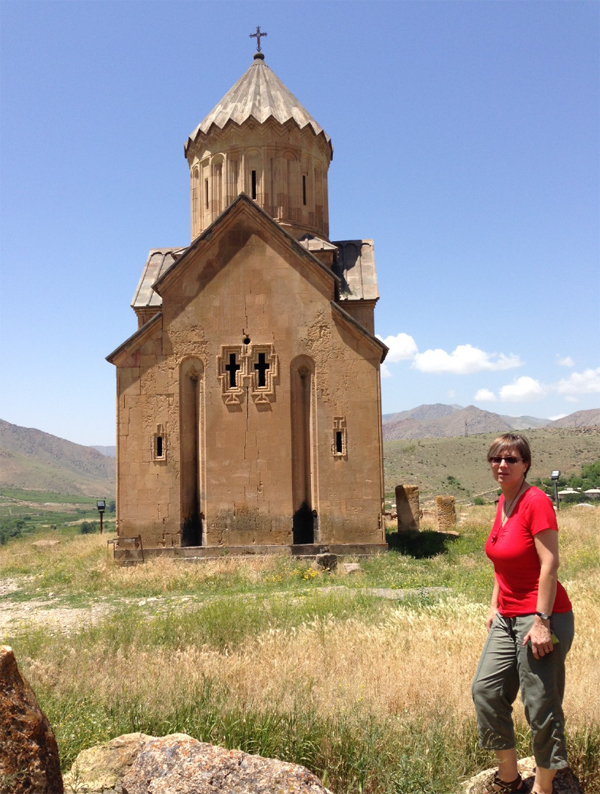 We were really on the way to find another monastery at the closure of a spectacular red brick colored canyon. Noravank, a 14th century masterpice was designed by the same guy as the little church we saw on the way. He was a sculptor and miniaturist with a fitting name: Momik. Innovative entry into this church makes visitors do their fair share of exercise.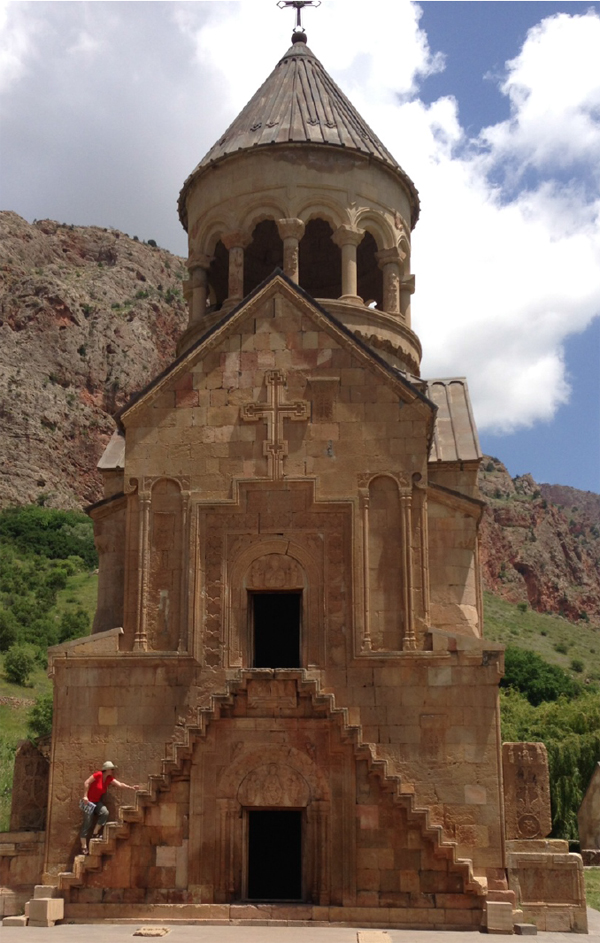 As we returned back to the main road we were crossing high mountain passes, faced deteriorating pavement, 10% ascends and descends – we could reach there 120km per hour speed, where our car doors threatened to open, the car wheels to fall off and we felt like taking off, or….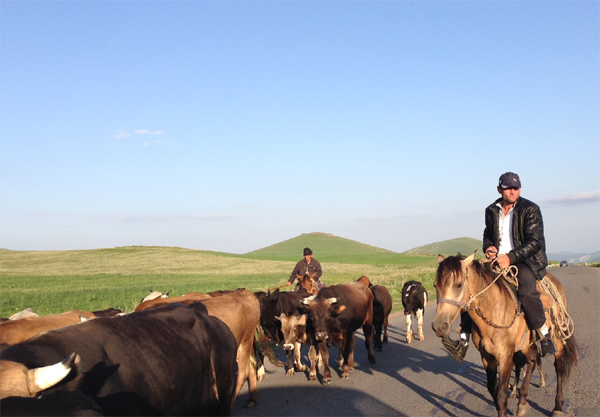 we had to suddenly stop as the moving of people and goods on the road was complemented by frequent participation of herds of domesticated animals in the roadway traffic. Then we patiently waited till they passed and used this opportunity to exchange with herdsmen
information on availability of…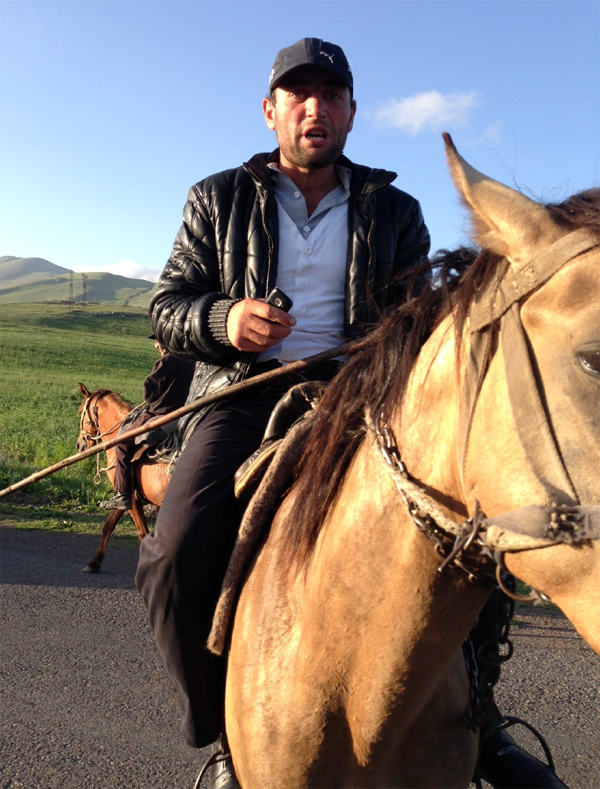 no, kidding, Internet signal in the area. Truly, as the guy on the horse with a nifty leather jacket, blue colared shirt and white cardigan leaned in towards our open car window, he waved his cell phone in our face and asked first in Ar,enian and then in Russian, "Do you have any service?" When we replied "None", he said, "Me neither!" and went merrily on his way. In those people to people contacts we went an extra mile in our effort to befriend significant segments of Armenian population by providing them with transportation to their homes even as it would inconvenience us a lot. As we were driving to our next historical encounter, lost as usual, we saw an old chap standing by the side of the road stretching empty for miles around.
We stoped the car and I rolled down the window to show him a picture of some bronze age stones called Karahunj or Stone Army. He nodded that he knows where they are and suddenly opened the back door of the car and climbed in. A bit taken a back we started a simple conversation with his Russian worse than ours. Still we understood he was a road construction worker on his way home that was close to the site we were looking for. Of course we offered to drop him off at his place first, which was on the outskirts of a small town in an old appartment building. Of course he insisted that he has to thank us properly and dragged us up a few flights of rather rudimentary cement stairs with no lights. But then his daughter opened the door and a
new world opened within with a spotless little appartment with all manners of creature comfort, such as a large sofa and a large TV. His family welcomed us as long lost relatives and proceeded to empty all the cupboards in their kitchen. We had no choice but to accept everything proferred or deeply offend the heart of these welcoming people. We consumed
varieties of alcoholic drinks of questionable origin, ate food whose consumption can prove fatal for the high sugar content, checked the granddaughter's 2nd grade English homework, listened to the stories of their neighbor who was immediately called to show us videos of his attempts to
make it to the Guinness Book of Records by repeating some excercise a few thousand times during his military service, go through their family albums to familiarize ourselves with the second cousin of their long forgotten girlfriend from the second grade living now in Arkansas, get ourselves involved in discussion on secret movements of Russian troops along the border with Azerbaijan, and other even less probable events in their family lives until we realized that the sun was already setting over a distant horizon and we have just half-an-hour left to find our large group of Bronze Age menhirs (220 of them) and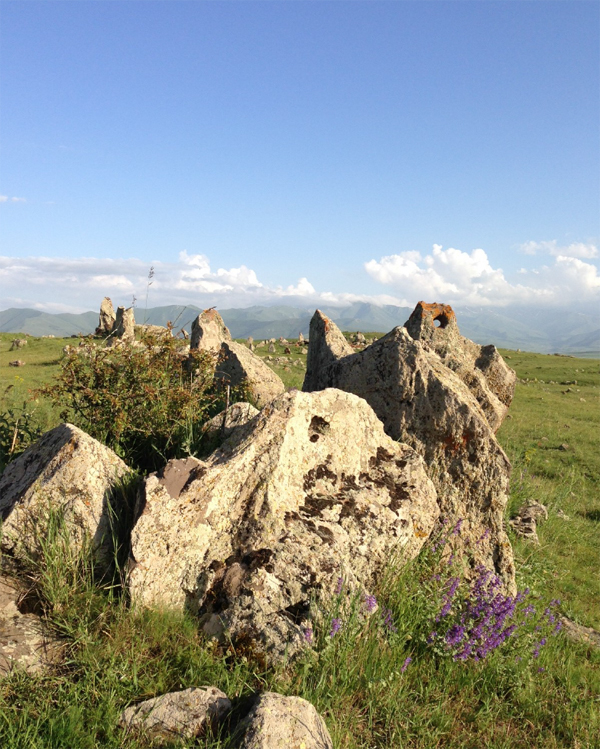 dolmens, the rocks whose origin, function, and purpose is still unknown to human mankind, as its location is to us.
Damn it, we are nearly too late again. But the setting sun and the long shadows give a special mysterious feel to this old site.