Being in Yerevan
….can bring you into a full cycle of emotions. It began with the cold rain which started drumming on the roof of our suburban B&B at midnight and had not stopped when we woke up just in time for our spread of local breakfast at 8 prepared by a group of entrepreneurial women from the host family. It included home made lavash bread that was still being baked in a deep underground pit in the garden. Having bravely driven our rented Russian tank called four wheel drive Niva out of town for the night did not make my depression any milder, BUT….if you do not like weather in Yerevan, just wait for a minute and it would improve-and it did.
As we steeled ourselves for our drive through downtown Yerevan the windshield wipers of our tank ceased to work so I was spared seeing clearly the horrors of downtown traffic until the rain stopped upon reaching the other side of town. That was a clear sign of the Goddess protecting us and our car and she additionally blessed us with the wipers starting to work into the full sunshine which followed. Good car! One more note about our transmission. All speed limit signs alongside Armenian roads are very much irrelevant on our trip either because of the frequent potholes we have to avoid or for the fact that even if we do reach the maximum speed with gear #5 of this vehicle we only rarely and exceptionally reach 80km/hr (about 50mph) when the transmission/ engine system goes into screaming overdrive giving the driver a triumphal feeling of Emerson Fittipaldi as he was on the verge of winning Formula 1 Monte Carlo Grand Prix.
Successfully crossing the capital in the morning rush hour improved my self confidence enough to be looking forward to our long drives around countryside. To grasp the Armenian history we visited the site of Christian conversion of Armenian King Trd III (Trd the Third, no kidding, this was his name).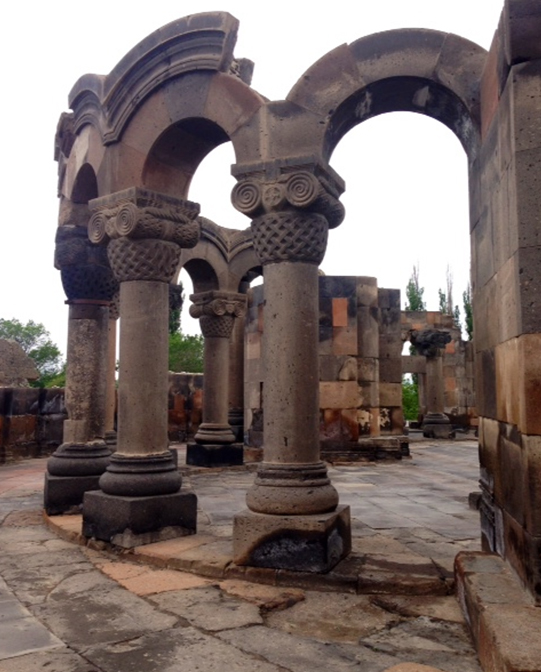 This pagan ruler first killed all Christians (virgins that refused to marry him were tortured first) in his fiefdom before changing his mind, converting to Christianity in 301, building the church, (coincidentally looking like a Greek temple), becoming the facto first Christian kingdom in the world, and then started killing all of those that did NOT want to be baptized. What can I say, it is good to be a king, right?
We had a lot of fun with locals, truly a pleasant bunch of people. Very approachable and willing to sell you anything to improve their standard of living in this otherwise gloomy economy. With the lady manning a stand by the historical church we negotiated very hard for a significant acquisition for mom's folk art collection of mother and child statues. After agreeing on the price of $8.45 we were served on the meadow with Armenian coffee (otherwise known around the world as Turkish coffee – politically very incorrect here), by a pound of sweet cherries picked from the trees growing around the site by her assistant and a standing invitation for dinner at her home in Etchmiadzin, our next destination. And that place was really something.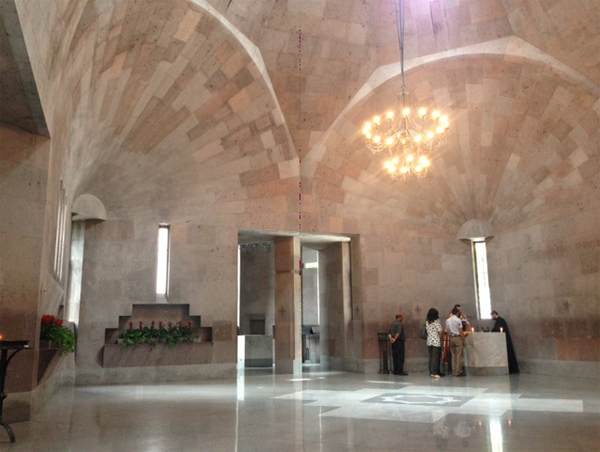 Not only is it a location of the first real Christian church of Armenia and the seat of their Catolicos (a sort of a pope) in a rather extensive complex of buildings it also has some with some stunning modern additions. The architectural design and workmanship in stone cutting and masonry of the local tuff, volcanic material of amazing quality and color is first class. You can see no money was spared to have the best, yet compared to Vatican, this is a pope's abode with no pomp, but quiet serenity. We stumbled upon some sort of a private rite with a young couple and a priest or two accompanied by the melodious religious incantations that reverberated through the marble vaults with eery historical spirituality.
As the weather became really hot we drove back to Yerevan to stroll the streets of this pleasant downtown with all the locals out in force, particularly girls in jeans, that could hardly be taken off without using surgical tools and in heels high enough that may cause the owners to also need expert help of another surgeon when they break their ankles on the uneven surface of the city sidewalks. We sheltered ourselves in A/C'ed (was it raining in the morning?) National Library to get another lecture in cultural history of this nation thanks to an amazing young woman we met in those 36hours in Yerevan. Her exceptionally good English was acquired through self-study on top of her deep knowledge of the plethora of Armenian manuscripts that she showed us. We particularly liked the original antifeminist Christian propaganda of Eve's original sin and consequent expulsion of the First Couple from Paradise. Here is Eve, for obvious reasons not naked, getting a scolding from God, looking over her shoulder for advice coming from the snake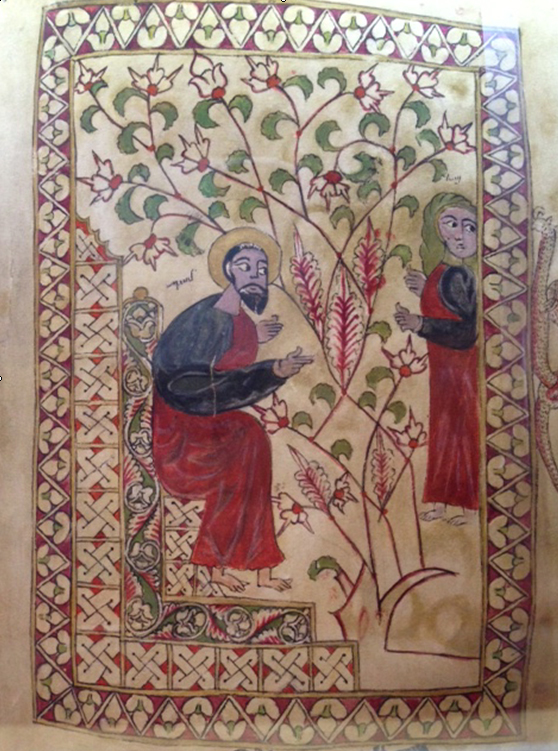 what to do with that guy (Adam).
Our guide, her name being Sunshine, was one of a few smart women we met here so far. In this country with average monthly salary of just $80, we met quite a few gifted women, hoping to travel, which of course is way too expensive and almost impossible to realize. We really felt sorry for our guide, she was absolutely dedicated to such a plan, with almost no hope to accomplish it.
Culturally uplifted we left the library to take a short break in a cafe next to an outdoor gallery of an American Armenian guy named Cafesiyan who finished a large scale public project of the enormously tall stairs sprinkled with major art donations from his collection, including the largest statue of a cat I have ever seen.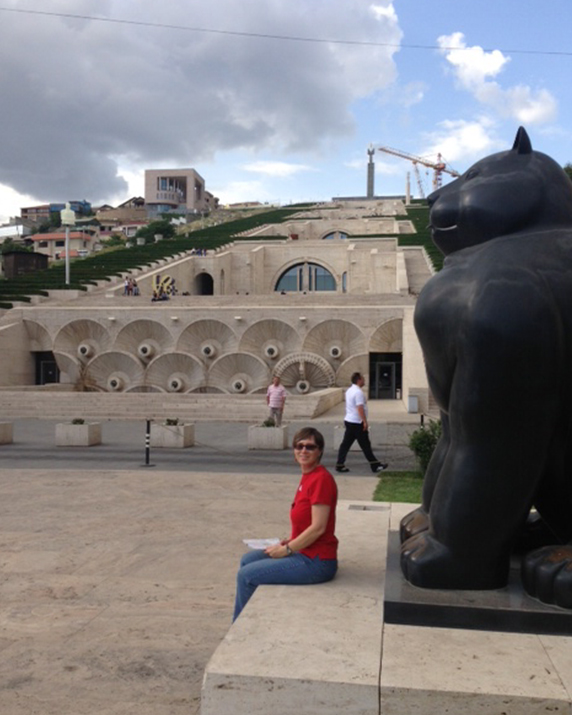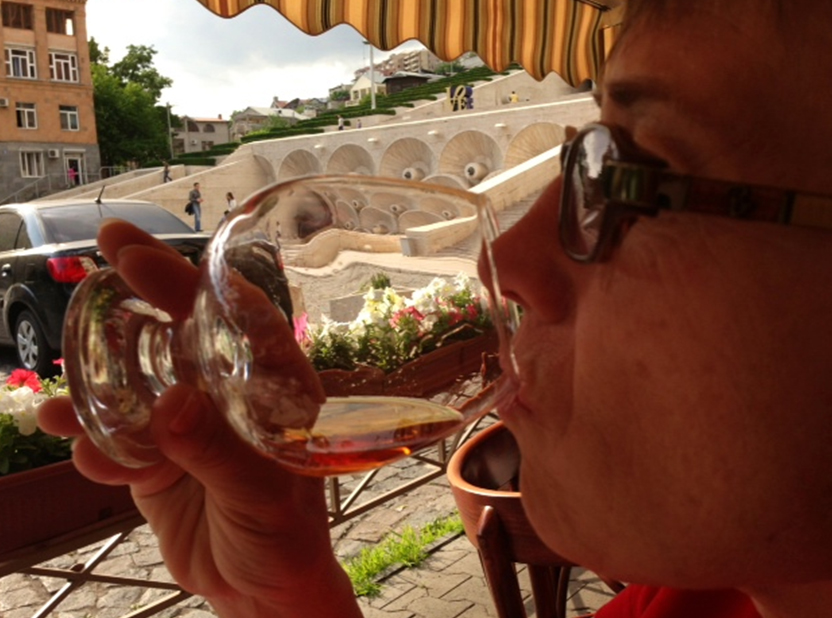 To see even more we decided to taste some local Armagnac
just to elevate our mental receptors before attending the final event of our busy first day in Yerevan- the Armenian National Orchestra performance in the Opera House.
It was quite remarkable. If I have expected a regular Western style concert evening, I was dead wrong. We were not allowed to take any pictures or recordings so you have to rely on my description of what happened that evening. Firstly, the orchestra's musicians did not wear regular evening outfits but rather mildly stylish folk clothing. Secondly, their instruments were different. This orchestra got rid of all violins, violas and cellos and replaced them with sort of Armenian style Russian balalaikas, with one group, on the conductor's left hand, playing balalaikas with bows, while the other group, on the conductor's right, played them with fingers like banjos. Between those two groups were five or six very attractive women in a kind of Mayan red dress, chosen for their physical attributes by the conductor to sit just in front of him, providing either a better view or better inspiration for him while playing something like hand held harps and making happy faces at the conductor to secure their jobs. The back of the orchestra was filled with more conventional instruments played by less attractive women. What can I say, it is good to be a conductor!
I do have to say the sound of this musical body was both pleasant and interesting until they were joined by a guy in a very oversized jacket who started to sing. Unfortunately, he continued to pop up too often and with too many boring songs throughout the evening. It must have been a popular guy with the locals, because he was getting a lot of flowers and finally some sort of diploma in the red folder. I hope a discrete check was included in appreciation of his life time achievements…. enough for him to buy a new and better fitting jacket.
We left during the concert's first intermission (the best tickets cost just $7.25, so no big deal) to have a last drink and bratwurst before going back "home" to the Yerevan outskirts.